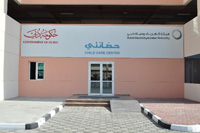 Employees' Programmes and Services:
Employee Happiness Department in DEWA provides its employees with various services such as:
Wesal.
Child Care Centres.
Al Khair Fund.
Waffer programme.
Barzatna Program.
Estisharati.
Tejori Al Sadaa.
Sports Committee.
Knowledge-Exchange Programme:
As part of its efforts to achieve its vision to become a sustainable world class utility depending on qualified Emirati staff, DEWA has started a knowledge-exchange programme with major international (e.g. IRENA & RWE in Germany and First Solar in the USA) and local (e.g. PWC) organizations. This aims to train staff on the latest technologies and best practices in energy and water.