EARTH HOUR OVERVIEW:
Earth Hour is one of the largest international environmental initiatives that unite millions of people around the world to tackle the threats posed by the growing issue of climate change, by making a concerted effort to switch off all unnecessary lights and unnecessary electronic appliances for an hour, from 8:30-9:30pm.
Earth Hour initiative started as a symbolic lights-out event in Sydney in 2007, and now it became the world's largest grassroots movement for the environment, inspiring millions of people to take action for our planet and nature.
EARTH HOUR IN DUBAI:
In 2008, Dubai was the first city in the Arab world to participate in Earth Hour. #EarthHourDubai is held under the patronage of Sheikh Hamdan bin Mohammed bin Rashid Al Maktoum, Crown Prince of Dubai and Chairman of the Dubai Executive Council. The initiative exemplifies the pioneering role of the UAE, continuously supporting and hosting initiatives and activities to raise the level of awareness around environmental issues, and supporting sustainable development locally, regionally, and internationally. DEWA organizes #EarthHourDubai event in cooperation with the Dubai Supreme Council of Energy and the Emirates Wildlife Society, in association with the World Wide Fund for Nature (EWS-WWF).
DEWA THE NATIONAL STRATEGIC PARTNER – EARTH HOUR UAE:
DEWA's partnership as a "National Strategic Partner for Earth Hour UAE" reflects its commitment towards environmental protection and carbon footprint reduction for generations to come, as well as supporting international efforts to reduce the effects of global warming.
EARTH HOUR THEME FOR 2018 - #CONNECT2EARTH:
This year's theme "#Connect2Earth" aims to raise the sense of responsibility between community groups and entities to move together through connecting positively with our environment by preserving our natural resources and adopting a sustainable lifestyle through using solar energy, switching to LED lights and reducing the carbon footprint by using the electrical car or public transportation to build a sustainable future for generations to come.
Spread the word and download starter kit.
EARTH HOUR WALK - SWITCH OFF LIGHTS & JOIN THE EVENT:
Join us with your family & friends and take the first step towards fighting climate change! Take part in the walkathon and activities in a family-fun-filled festival, your every step will be matched by thousands of others who have all come together to show support for #EarthHourUAE:
Date: Saturday 24 March 2018
Venue: Marasi Promenade – Marasi Business Bay
Event Time: 4-10PM
The Walkathon & Switch Off Time: 8:30 – 9:30PM
Register your support to Earth Hour UAE through www.earthhour.ae
For event directions, click on the map: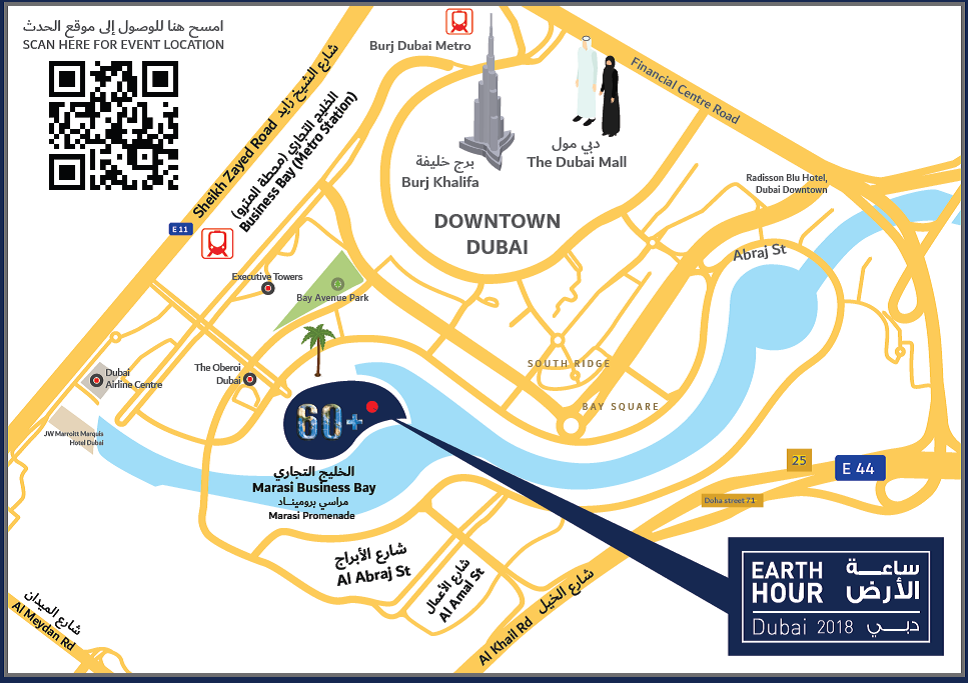 THIRD CONSECUTIVE CARBON NEUTRAL EMISSIONS INITIATIVE FOR EARTH HOUR 2018:
DEWA's own Carbon Neutral Emission initiative aims to reduce its carbon emissions during Earth Hour this year to 0%. The carbon emissions reduction can be achieved by exchanging its carbon emissions with carbon credits approved for DEWA's projects, based on the Kyoto Protocol to the United Nations Framework Convention on Climate Change (UNFCCC).