Invest in DEWA
Be part of something greater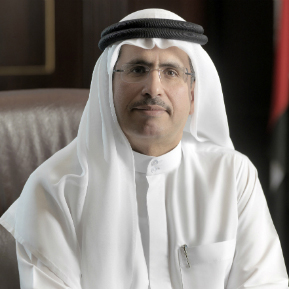 "Dubai's wise leadership has enabled the Emirate to grow into a thriving, diversified global economy in just a few decades. As the exclusive provider of electricity and water services to Dubai, DEWA is incredibly proud to have played a part in the success of the Emirate.
Dubai's fast paced development has resulted in a rapid increase in the demand for electricity and water. And DEWA has grown along with Dubai's expanding economy, population, and world-class competitive infrastructure, emphasising the Emirate's position as a global city. DEWA is therefore both integral to, and benefits from, Dubai's past and current economic growth. And we are playing a key role in Dubai's green energy transition process.
DEWA has a world-class governance system and continuous record of good governance across all its operations. With the highest standards of efficiency, quality, and availability, DEWA is ready to meet the increasing demand for electricity and water in the Emirate, as the population is expected to grow from around 3.5 million people today to 5.8 million people by 2040.
Central to DEWA's strategy is supporting Dubai's energy transition to net zero by 2050 – we are focused on enabling a clean future for our customers and communities. DEWA supports the Dubai Net Zero Carbon Emissions Strategy 2050 and is well-aligned to the Dubai Clean Energy Strategy 2050, which aims to provide 100% of Dubai's energy production capacity from clean energy sources by 2050. Looking ahead, DEWA will support the UAE's strategic growth ambitions by providing Dubai's millions of residents and visitors with world-class services and innovative energy solutions. And that in turn will enrich lives while ensuring the happiness and wellbeing of all our stakeholders."
HE Saeed Mohammed Al Tayer
MD & CEO of DEWA
23.8B
Total Revenue (FY 2021)
6.6B
Net Income (FY 2021)
1.5x
Net Debt/EBITDA (FY 2021)
Contact
Reach out to us and we'll get back to you within 2 working days.