Partnerships Management
Corporate Partnership & Relations Department
The Corporate Partnership & Relations Department is adopting best practices by implementing the ISO 440001: 2017- Collaborative Business Relationship Management Systems, which enables Dubai Electricity and Water Authority (DEWA) to share knowledge, skills and resources to meet mutually defined objectives and to provide new levels of value creation with its partners.
Partnership Definition
It is an agreement on a relationship between two or more parties to invest resources and expertise available to reach a mutually benefits and shared goals - short or long term - where responsibilities, inputs and outputs are determined.
Partnership Types
There are two types of partnerships, described as follows:
Strategic Partners
Strategic partners can affect or have an impact on DEWA's vision, mission, and sustainability. They also support DEWA to deliver its corporate strategic goals and maintain its strategic direction.
Main Partners
Partners that aim to achieve mutual benefits in terms of services, joint ventures, knowledge and expertise.
Framework & Tools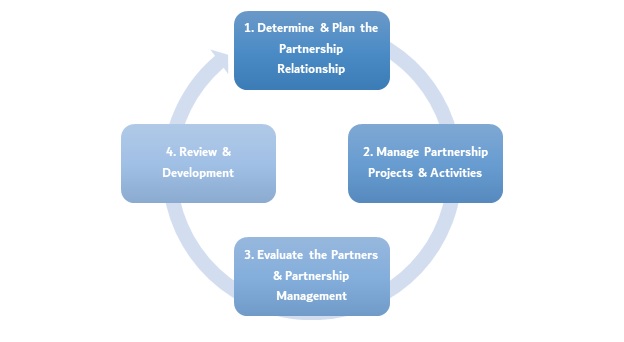 DEWA establishes and manages partnerships through an effective and clear framework that consists of four essential steps.
Stage One:
Determine & Plan the Partnership Relationship:
Identify Key Partners and continuously search for partnerships opportunity locally, regionally and internationally in both public and private sectors who contribute to providing services, initiatives and projects on an ongoing basis.
Stage Two:
Manage Partnership Projects & Activities:
DEWA manages Partnership Relationships through a clear framework to achieve mutual benefits and provide added value by working collaboratively with our partner to improve organisational performance.
Stage Three:
Evaluate the Partners & Partnership Management:
DEWA ensures transparency in the relationship with its partner by evaluating the partnerships through Partnership Happiness Surveys to create solutions to improve partnership outcomes.
Stage Four:
Framework, Review and Developing:
DEWA reviews the results of the surveys and performance levels to identify improvement plans.